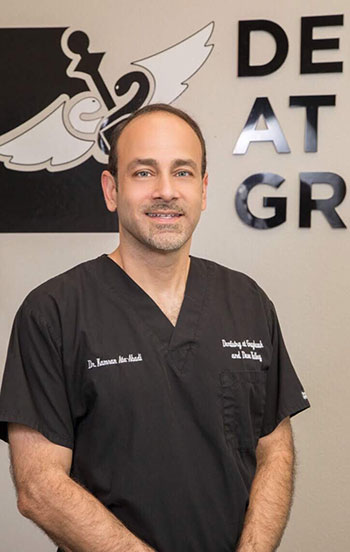 I believe that dentistry is not about just fixing teeth.
By restoring and improving a person's smile, we also enhance their self-esteem.
By improving the health of the oral cavity, including the periodontal (gum) tissues, we are also reducing the number of bad bacteria in the mouth that cause damage to the dental and periodontal tissues and can also enter the bloodstream, travel, and cause chronic and long-term damage to other organs. This oral/systemic connection has been established by many medical studies.
Through proper dental care and education, we dentists can improve patients' quality of life.
~ Dr. Kamran Ata-Abadi
Dr. Ata-Abadi provides each of his patients with the highest quality of conservative dentistry. He works hard to put people at ease by explaining their dental conditions and the needed treatment in a straightforward and easily understood manner.
His goal is to provide the ideal treatment in the most comfortable manner and supportive environment, where patients know they have control over the process.
Education and Experience
Dr. Ata-Abadi has practiced dentistry for more than 20 years. He entered the dental field with the desire to make a meaningful difference in people's health and lives, through dental procedures and by educating and motivating patients to make informed oral health decisions.
Prior to becoming a dentist, Dr. Ata-Abadi completed the following:
After finishing his residency, Dr. Ata-Abadi moved to Arizona with his wife, Dr. Bahar Ata-Abadi, and they established their Scottsdale dental practice.
Continuing Education and Professional Affiliations
Participating in dental and healthcare-related continuing education courses enables Dr. Ata-Abadi to learn about the latest techniques, technologies, and concepts pertaining to the delivery of quality dental care. In addition, it is beneficial to hear from experts in the field about their experience in working with the new options.
Dr. Ata-Abadi regularly completes continuing education courses through the:
Beyond the Office
Dr. Ata-Abadi grew up in Iran and Germany; he and his family — Dr. Bahar and their two children — have resided in the Scottsdale area for more than 20 years. The couple's daughter Halle currently attends college and their son Kevan is in high school.
When he's not in the office, Dr. Ata-Abadi enjoys reading, watching new or classic movies, exercising, and practicing Taekwondo. The family enjoys traveling, too, and keeping in touch with relatives who happen to live across the globe.